UPDATE: 10/5/15
** Letters to Santa Claus is now available!
The Elves are thrilled to announce that a new book featuring over 250 letters to Santa Claus will be released in October 2015. The book, entitled Letters to Santa Claus, is a dream-come-true for all of Santa's merry helpers. This dedicated group of volunteers devote their time each Christmas season to help Santa answer every letter received in the Christmasy town of Santa Claus. Year after year, the Elves select their favorite letters to be archived at the Santa Claus Museum & Village. It's a marvelous collection and while some of the letters are featured at the museum and on this website, their are thousands more just waiting to be enjoyed.
In December 2014, Indiana University Press approached the Elves about creating a book that would showcase many of these letters. The Elves, of course, jumped at the chance (well, sort of – Elves aren't known for their jumping ability).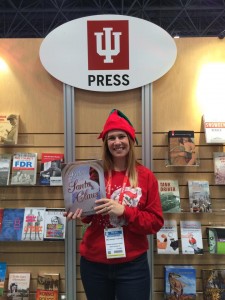 Chief Elf and longtime Santa Claus, Indiana, resident Pat Koch composes the foreword, reflecting on her memories of the Letters to Santa program and the importance of preserving history. Emily Thompson, Director at the Santa Claus Museum & Village, writes the afterword, highlighting the history of the town and the story of Santa's Elves. In between, the book features hundreds of letters that have been sent to Santa Claus, Indiana, over the past century. They were thoughtfully selected and the book contains many of the most humorous or touching letters the Elves' have received.
The book, which will be published by Indiana University Press in the fall, was recently featured at Book Expo America in New York City. Author Emily Thompson signed hundreds of pre-copies for interested fans and Indiana University Press did a fantastic job promoting the upcoming book. 
IU Press writes about the book:
"For years, children and adults have stuffed their candid dreams, wishes, and promises into envelopes addressed to Santa Claus. Whether the envelopes come with stamps or without, are addressed to "The Big Red Guy at Jingle Bells Lane" or simply "To Santa," for over 100 years, millions of these letters have poured into Santa Claus, Indiana. Arriving from all corners of the globe, the letters ask for toys, family reunions, snow, and help for the needy—sometimes the needy being the writers themselves. They are candid, heartfelt, and often blunt. Many children wonder how Santa gets into their chimneyless homes. One child reminds Santa that she has not hit her brothers over 1,350 times that year, and another respectfully requests two million dollars in "cold cash." One child hopes to make his life better with a time machine, an adult woman asks for a man, and one miscreant actually threatens Santa's reindeer! Containing more than 250 actual letters and envelopes from the naughty and nice reaching back to the 1930s, this moving book will touch readers' hearts and bring back memories of a time in our lives when the man with a white beard and a red suit held out the hope that our wishes might come true."
Keep checking for more updates and we promise to keep you posted!