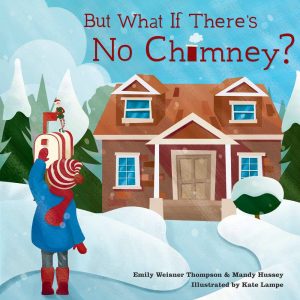 Are you looking for the perfect Christmas gift? Do you know a child living in a house with no chimney? We've got something new for you!
Santa's Elves help Santa respond to letters sent from all over the world, and one of the most common concerns expressed in these letters is, "Santa we don't have a chimney. How will you get in?" Some children offer suggestions while others just want to make sure Santa is aware of the challenges. With these letters in mind, Assistant Elf and Santa Claus Museum Director Emily Weisner Thompson has authored a new book called But What if There's No Chimney?
In this story, five-year-old Ben is new in town and is shocked to find his house has no chimney. How will Santa get into his house to deliver gifts? As Christmas approaches, Ben looks for answers, asking his dad, friend, teacher, mailman, and even his dog! Ben's search ends with a letter to Santa Claus, Indiana. Will Santa reply, and what will he say? In addition, Checkermint the Elf is hiding on each page, just waiting to be discovered.
But What if There's No Chimney? has just been released and is available in the Santa Claus Museum Gift Shop, and online at Amazon.com. Proceeds from the book benefit the Letters to Santa Program and Santa's Elves.