Plan A Visit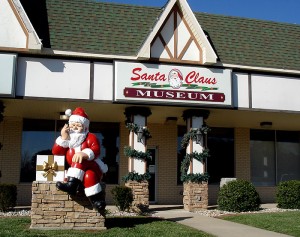 Visit us in Santa Claus, Indiana to take a stroll through history at the Santa Claus Museum, featuring letters to Santa dating back to the 1930s. Pay a visit to the historic, 1935 Santa Claus Statue and the newly relocated 1856 Santa Claus Post Office, where children can sit at antique school desks and pen their letters to Santa. Don't forget to tour the beautiful, 1880 Santa Claus Church and stop in the museum gift shop for a souvenir of your visit.
Hours of Operation for December*:
Saturdays: 9 am – 5 pm CT
Sundays: 9 am – 4 pm CT
We will be closed for the season beginning Monday, December 23, 2013
*The Original Santa Claus Post Office may be open some weekdays during December for those interested in writing a letter to Santa, or for volunteer Elves interested in helping Santa answer letters. Please call 812-544-2434 prior to your visit to confirm the site is open, as these hours will vary.
Group Visits: 
If you would like to schedule a visit for your tour group, school, club, or organization, please contact us at 812-544-2434 or elf@santaclausmuseum.org for fees and details.
Admission is free and open to the public, but we do rely on your generous donations to help fund the museum's efforts to preserve our history for the enjoyment of future generations. All donations and gift shop proceeds also help Santa's Elves purchase the postage necessary to mail thousands of letters from Santa each year. We suggest a donation of $2 per person or $5 per family.
You can also find us on www.familydaysout.com
and
Santa Claus Museum and Village
69 N. State Road 245
Santa Claus, IN 47579
(812) 544-2434