Fall is in the Air
By Kathleen Crews on August 31, 2017 in A Day at the Museum with No Comments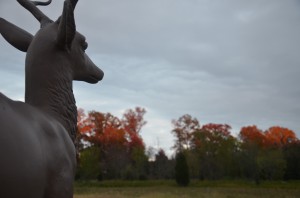 As summer draws to a close, we begin to eagerly anticipate the arrival of fall. This year, we have several special events lined up for October and November. Our annual All Hallows' Eve will be held on Saturday, October 28, 2017. The amazing Susan Fowler will be back to give us her not-so-scary rendition of The Legend of Sleepy Hollow. And we look forward to once again hosting Santa's Haunted Church and Trail on October 27 and 28, a spooky event put on by Team H-A-P-P-Y of Spencer County Relay for Life. If you're a wrestling fan, you won't want to miss our November event, An Evening with Saint Mick… otherwise known as Mick Foley. This free event offers a great opportunity to talk with Mick Foley about his new book and get your very own copy signed.
Check out our events page for more information on these upcoming events and we sure hope to see you soon!
This site uses Akismet to reduce spam. Learn how your comment data is processed.
© Copyright 2022 Santa Claus Museum in Santa Claus Indiana.